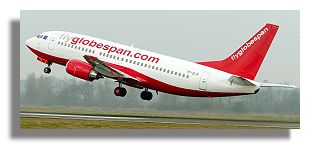 You may have seen in the news the last few days that the Scottish airline fly-globespan has gone bust. If you were watching Sky News on Thursday 17th December you may have in fact heard how our family had been affected as I was interviewd live at 9am, 2pm as well as 5pm.
I heard about collapse of globespan late Wednesday night when friends sent me a text.
Thursday morning I went straight to an Internet cafe and booked ryanair flights at full price for my sons and friends 4 tickets totalling €595 who where flying back the following day Friday. We are not due to fly back until jan 2nd so I checked flights for us and found they would be about €300 each (x3) for me my wife and daughter, so I decided to wait. Later that day I heard from Sky about cheap rescue flights and my friends were phoned by the travel agents they had booked their flights with. They were offered free flights from their travel agent barrhead travel in glasgow. I phoned ryanair to see if I could get a refund for the tickets I had purchased at full price. Much to my suprise they agreed and have refunded the full amount and let me book at the reduced rescue rate for my sons, who are now home safely. So most unexpectedly I find myself singing the praises of the low budget airlines particularly ryanair for the way they have handled my situation and the refund they provided. I have noticed it seems to be ryanair and easyjet that were quick to step in with offers.